Once a year, I try to attend an NLP or ML conference, usually picking the one that is closest in terms of location. In 2016 I was at ACL in Berlin
, in 2017 I attended ICLR in Toulon

and this year I made the trip to EMNLP in Brussels

.
EMNLP is short for Conference on Empirical Methods in Natural Language Processing and arguably, this conference is most closely related to my own research area IR. As almost all reputable ML/NLP venues, the conference had a record number of submissions (>2100) and participants (~2500) this year. Overall, 549 papers were accepted and split between oral and poster sessions. Everything happened in parallel (not just oral sessions, but also poster sessions), apart from they keynotes and best paper session, which means i missed about 90% of everything that was out there.
Before the 3-day conference itself, there were two days of workshops and co-located conferences. I attended the Search-Oriented Conversational AI workshop and the BlackboxNLP workshop. Each one had several hundred participants, with many great talks!
I was impressed that, despite the focus on the empirical work (or maybe because of it?), many presentations were void of almost any formula - which is quite a contrast to SIGIR or CIKM where it sometimes seems like a challenge to put in as many formulas as possible.
What I also took away from the conference is that, often, IR baselines (which seems to be the way of referring to anything IR-ish) are used as poorly performing baselines whose effectiveness is well below even the worst deep models. I have only seen a few presentations and certainly have not looked at more than a small share of the papers, but this slide sums up pretty well what I perceive as a not so uncommon opinion in the NLP community: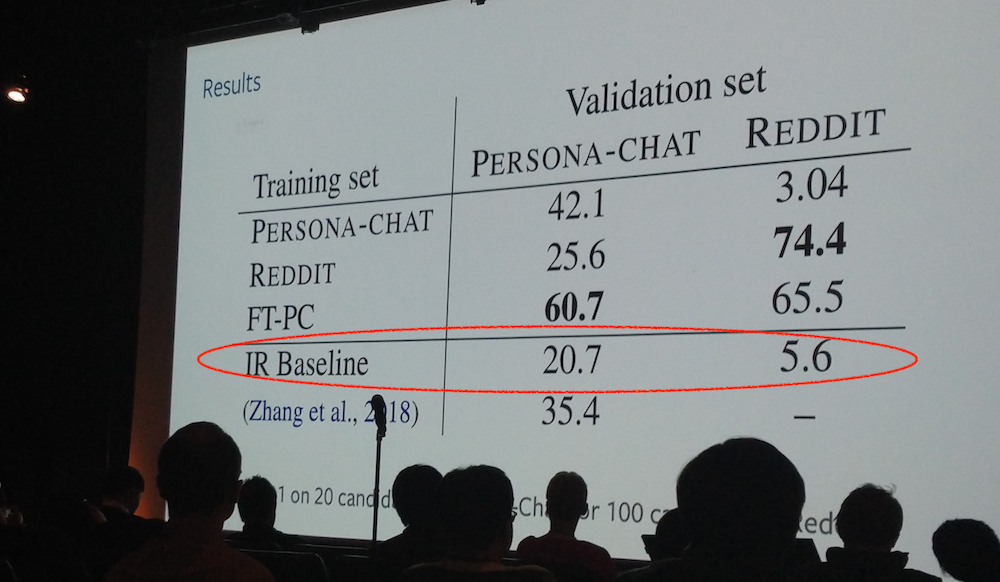 EMNLP does have an IR/text mining track, nothing stops us from pushing back on this narrative!
The EMNLP proceedings can be found here.
Here are the works that stood out to me, these tended to be either papers about conversations and dialogues, papers with a strong IR component or dataset papers: